Susan and Michael's story: Live-in care and independence
8 November 2023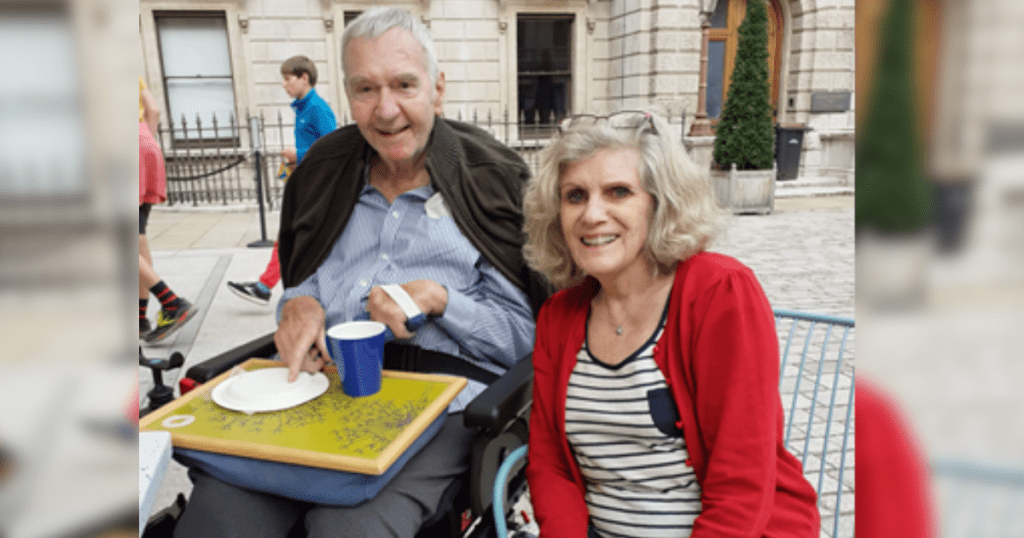 Meet Susan and Michael 
Retired and previously worked in media
Have two grown-up children
Found a supportive community through Back Up 
Spinal cord injury does not only affect the injured individual. The impact of their injury can be felt by their close family, friends, and loved ones. They will need to adapt to changes in routine and the possibility of having a carer or personal assistant at home. This can feel isolating and stressful –  Back Up is here to provide support to everyone affected by spinal cord injury.   
After her husband sustained a high-level spinal cord injury, Susan found that she also had to adapt to a new normal.   
"Four and a half years ago, Michael fell at home. He was diagnosed with a C8 incomplete spinal cord injury.   
"The first major adjustment we faced – besides the initial horror of it all – was getting Michael home after hospital. I ended up looking for advice about transitioning back home from anywhere I could. I wanted to talk to people, seek advice, and maybe shed a few tears."   
The transition back home from hospital after spinal cord injury can be overwhelming – newly injured individuals and their loved ones face routine changes, home adaptations, and getting used to personal care routines.   
In Susan and Michael's case, they opted to have a live-in personal assistant.   
"You look at luck in different ways after spinal cord injury. It was lucky, in our case, that we had a house that would accommodate a live-in carer. I didn't know how else we would cope.  
"I still had so many questions about how we could live independently with a carer. What would our life look like now?"  
This is how Susan found Back Up. It can be vital to speak to someone who understands. Susan reached out to our team, and was paired up with one of our family mentors.   
Back Up family mentors are volunteers who have lived experience of their loved one having a spinal cord injury. They understand how to live well after spinal cord injury, because they have been there themselves.   
"My mentor's husband had been injured for five years. They proved to me that life still goes on after spinal cord injury. Because they had a care package that suited them, it meant that they could live independently. Care support meant that my mentor was able to have a job and leave the house knowing her husband had all the help he needed."  
As well as showing Susan how care can be a tool for living well after spinal cord injury, her mentor also provided her and Michael with top tips for independence.   
"After his injury, Michael needed some help when eating. He could hold a fork, but was unable to cut up his own meals. My mentor shared with us information about adaptive cutlery, so Michael can eat more independently.   
"It's great that Back Up provide practical help too."  
After being supported by her mentor, Susan still keeps being involved in the Back Up community. She takes part in the Back Up Lounge, a fortnightly online space for people affected by spinal cord injury. Here, our community is able to share top tips, discuss issues that matter to them, and keep in touch with others in a similar situation.   
This ongoing support means that Susan knows she is not alone.   
"Since using Back Up's services I feel much more confident and settled managing our lives and Michael's care plan. 
"Knowing others in the same boat has given me so much faith in going forwards."
Do you need support after spinal cord injury? Register for our services here.