Noah's story: Dating with a spinal cord injury
8 February 2023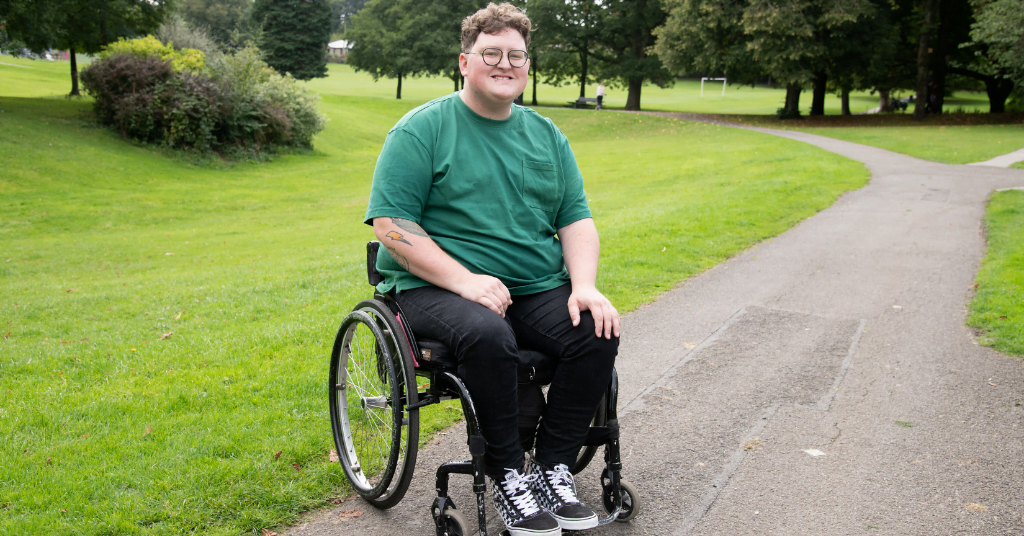 Our mentoring team was there to help Noah overcome some of the struggles of dating and spinal cord injury. Read on to discover how Back Up helped Noah get the confidence to live life to the full.
Meet Noah:
Loves wheelchair rugby
Has a dog called Archie
Has been on a Back Up Skills for Independence Course
Every spinal cord injury is as unique as the individual who sustains it. In Noah's case, his injury developed over time.
"I was in a car accident aged 17. The doctors did not scan my back afterwards, and it progressively got worse. By the time someone took action, the discs in my spine had crushed my spinal cord at L4 – S1."
Due to the nature of his injury, Noah often found himself feeling rather isolated. In the early days he did not have a chance to talk to others in a similar situation Although he says that he generally coped quite well after his injury due to growing up with a disabled father – which helped him understand some of the challenges he would be facing – he found other people's reactions to his injury could be frustrating.
"When I first saw my uncle after I started using a wheelchair, he was initially taken aback. I don't think he realised the gravity of my situation until I visited him.
"I try to focus on what I can do rather than what I can't, but little things like others' perceptions can affect me."
For Noah, these perceptions could create barriers between himself and others. These barriers got in the way of relationships and intimacy, something that Noah discovered while dating with a spinal cord injury.
"I was on a second date once and we went on a walk with my dog. I would have liked to have held my date's hand, but I needed to use my arms to push my chair.
"It's tricky when you need to approach the topic of sexual function after spinal cord injury as well. You feel the need to explain yourself to partners, which can get in the way of being spontaneous. Even if the other person is open-minded, at which point do you talk to them about everything?"
Some time after Noah started using his wheelchair, he got in touch with Back Up. He wanted to talk to someone in a similar situation, and we were there to help.
"I'll never forget my first phone call with Back Up. For the first time ever, I felt listened to. I knew things were going to be alright."
We explained our vital services to Noah, and showed him how our mentoring service could help. With Noah's situation in mind, we paired him up with a mentor in a similar situation – someone who could relate to the challenges he was facing, and could equip him with the tools needed to navigate dating with a spinal cord injury.
"I explained that I am trans and bisexual. It's never usually a big issue in my life, but combined with my injury it can complicate things – especially when talking about topics like sex and bladder and bowel management.
"I'm not saying a straight or cisgender person would not understand, but I wanted to speak with someone with lived experience."
We paired Noah up with Tony, one of our trained mentors, and they began speaking regularly. As a gay man, Tony related to what Noah was feeling after spinal cord injury. He was able to provide a listening ear, and share what he learned about living life to the full.
"I remember Tony telling me that I did not owe anyone an explanation about my spinal cord injury. He made sure I knew that I was always in control of my situation, and I could choose who I disclose things about my injury to.
"Tony was one of the first people with a spinal cord injury I ever spoke to. Now I just feel less alone than before."
Since then, Noah has kept in touch with Back Up and has built up a supportive community around himself. He went on to join our Skills for Independence course, and being able to speak with others who understood helped him find confidence in his self-image.
"When I first started using a wheelchair, I remember being very embarrassed. Your body just looks so different sitting down instead of standing up. Since I started getting involved with Back Up, I don't know what I was so embarrassed about!"
"It's great to have people around you who understand you can use as a sounding board while you're navigating dating and being single after spinal cord injury. I would absolutely recommend anyone struggling with relationships after spinal cord injury to speak with Back Up."
We are delighted that we were able to support Noah after spinal cord injury. If you or someone close to you is seeking support, get in touch here.