Jenny's story: Keeping positive after spinal cord injury
8 June 2023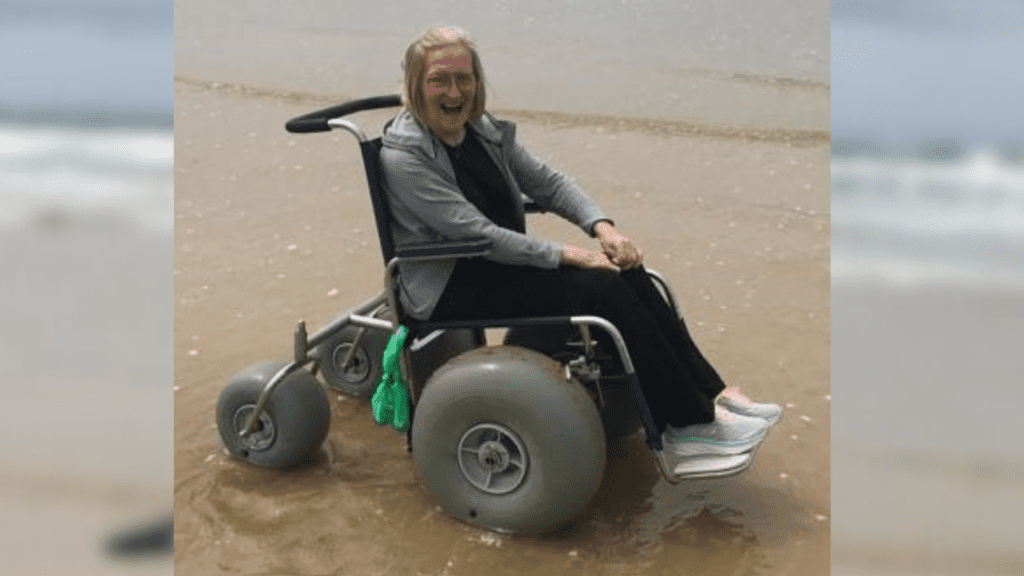 Meet Jenny: 
Worked at a skin care company for 16 years prior to retiring

 

Loves the outdoors and her dogs

Currently volunteers with Back Up as a

mentor

, after we supported her too

 
Jenny says that she has always been a positive person. Prior to her retirement, her employer would say that they chose her for the role because she  always kept a "glass half full" mentality. She says that her outlook has kept her going after she sustained a spinal cord injury, and that Back Up  helped her keep looking on the positive side.
Jenny's life was permanently changed in an instant. After waking up in the middle of the night to go to the bathroom, Jenny felt dizzy and fainted, hitting her head on the shower door. Jenny was instantly paralyzed, but the cause of her fall was later discovered to be from a large buildup of calcium on her spinal column. The fall had injured her spinal cord on the C7 level, combined with the damage already done by the calcium on the C3 – C5 level. This resulted in an incomplete spinal cord injury. For Jenny, this means she uses a wheelchair to get around, but can stand with the use of mobility aids.
Although she was bolstered by her positive outlook, Jenny admits that she felt overwhelmed in the early days. She often found it hard to understand her new situation.
"In hospital I thought that within a few months I'd be 'back to normal'. I thought I'd be returning to work and walking like I did before.
"I just did not appreciate the seriousness of it all."
Jenny soon realized that she needed support in understanding her life after spinal cord injury. This is how she got involved with Back Up. After reaching out to Jenny, we partnered her with a mentor, someone who already had lived experience with spinal cord injury. Jenny's mentor provided a listening ear, and helped her stay positive after her injury.
"In those early days, if I was feeling off I'd blame myself. My mentor was always there to remind me that I could have had off days before my injury, but I was still able to get through them. It is no different now.
"My mentor was so patient. He gave me such a boost and plenty of advice whenever I needed it. It left me wanting to do more with Back Up!"
After we mentored her, Jenny was inspired to attend one of our Multi Activity Courses. These courses are designed by Back Up to help injured individuals boost their confidence through fun outdoor activities. As well as exciting experiences such as zipwiring, archery and abseiling, participants are able to meet others in a similar situation.
This course truly helped make a difference to Jenny after her spinal cord injury.
"I wanted to see how I could cope with going away for a week independently, and I also wanted to see how I could get on with the adaptive activities. I got all of that plus much more on the course!
"Right from the start everyone on the course and the volunteers made me feel welcome. Out of all the activities, my highlight was the zipwire. I loved the feeling of freedom as you were zooming along.
"Now I feel like I have the confidence to do more. If I can do zipwiring and abseiling, then going to the shops on my own won't be a problem."
We are thrilled to have helped Jenny make a difference after spinal cord injury. Visit the services section of our website here to learn more about what we do.