Abigail's story: How Back Up courses have impacted my mum – and me!
4 July 2022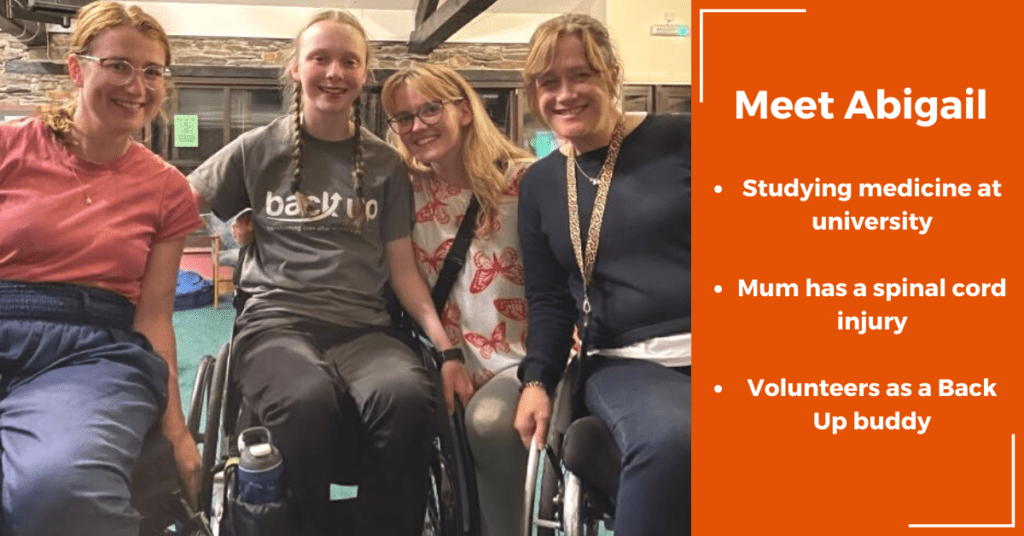 Full-time student Abigail came across Back Up through her mum, Charlotte, who has a spinal cord injury.
"When I was doing my A levels in 2019, Mum had her spinal surgery. After surgery, she went on Back Up's Multi-Activity course. She came back a completely different person."
"Before the course, I worried quite a lot because she just didn't seem like herself anymore. She had lost her confidence, and I felt like she thought she'd lost some of her independence. I know she really struggled with that."
"But when she came back from the Multi-Activity course, she had regained all her confidence again," says Abigail. "She absolutely loved it."
"The course showed Mum she could still do all the things she used to do, just in different ways."
"Mum suddenly believed in herself. She now understood that she could do all these things. She started becoming a lot more independent again – travelling and going on trains by herself."
"I'm currently studying medicine, so I spend a lot of my time on placements and also volunteer at local hospitals. And having seen such a positive change in my mum after the Back Up course, I decided to volunteer further – I applied to be a Back Up buddy."
Becoming a Back Up buddy
Buddies are volunteers who help out on Back Up's courses. Our courses support spinal cord injured participants to build their confidence, independence and connect with someone in a similar situation to themselves.
"Unfortunately, because of COVID, I had to wait a while until the courses were back up and running, but once they were, I jumped at the opportunity to become a buddy."
"It was everything Mum had hyped it up to be. Meeting everyone there was really empowering. I could see exactly why Mum's confidence had picked up!"
"The courses are so supportive. They're like a community. I was worried there would be separation between the buddies and the participants – but it wasn't like that at all. We were all just one big group. Having just turned 20, I was also worried that age might create some divides within the team. But it didn't at all! It was so cool to see how people of different ages got on. Age no longer mattered."
"I made some amazing friends on the course and saw some of them on the most recent Lake District course I buddied on too."
Support for a whole family affected by spinal cord injury
"Volunteering for Back Up gave me the confidence to better support Mum when she needs it."
"Me and Mum can do so many things together. We went to the Back Up Ball together, which was so fun – we had such a great night! I feel like we can take on anything."
"If you have a family member with a spinal cord injury, I think the biggest thing is just to understand they are still the same person. They can do the same things as before their injury."
"You can't cover your loved one in bubble wrap."
"It can be scary, especially if they're learning to do things like a back wheel balance in their wheelchair. But it's so important just to let them do these exercises as it'll build their confidence. They made such a huge difference to my mum."
"Buddying on a course is definitely worth making the time for. As soon as I got back, I told all my friends about it and recommended they try it out!"
If you want to help transform the lives of those affected by spinal cord injury, take a look at some of our volunteer roles today!