This Christmas, another young person will find out that they have a spinal cord injury.  
Back Up will be there to support them to lead a happy, active and independent life.
Our Christmas appeal this year focuses on how we helped Eleanor to develop her confidence and attend her chosen course at university, which took place in an inaccessible building. Last Summer, lifts and ramps were fitted so Eleanor could finally start her textiles course.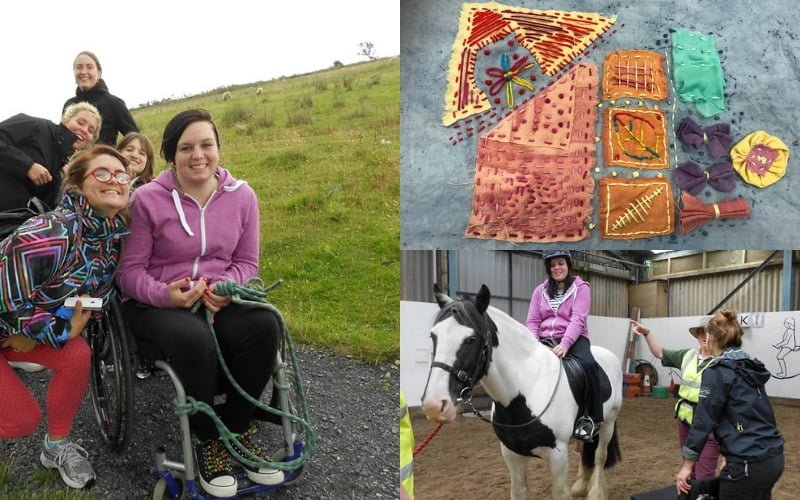 "I was 13 years old when I woke up one Friday morning and couldn't feel anything below my waist. I was having hallucinations too and it was just really scary. I was rushed to hospital to undergo some tests and the doctors soon found out that I had Transverse Myelitis, a condition that affects eight in one million people. It caused my immune system to attack the nerves around my spine, leaving me with a permanent spinal cord injury.
"When I was transferred to Stoke Mandeville spinal centre, I must admit I was in denial about my whole situation. I wasn't keen on group activities and didn't want to socialise and get to know other people who use wheelchairs because that wasn't going to be my life.
"I slept through the Back Up wheelchair skills sessions on the ward. I didn't want anything to do with them.
"It wasn't until I met Stuart, one of Back Up's volunteers, that my outlook on life changed. He came onto the ward one evening to show us how to make fajitas and – it might seem silly – but in that moment I just felt like I could get my life back.
"I was enjoying myself for the first time since my spinal cord injury. I was having a giggle, listening to everyone's experiences, getting advice, and – most importantly – realising that I wasn't alone.
"I felt a slight hope for my future – an independent future. I eventually went back to school, completed my GCSEs, passed my driving test and just got on with my life. And Back Up gave me the confidence to do all these things and more.
"In 2016, I was just finishing studying fashion and textiles at college. I loved every minute of it, so I was over the moon to be accepted to study textiles at university. But my excitement was cut short after I received a phone call telling me that the course took place in an inaccessible building.
"I was gutted and started to panic. I instantly thought of Back Up.
"I made a call to them and was put in touch with Jo and Ella from Back Up's under 18s services team. I explained my situation and they both listened and took my situation seriously. They explained to me that, whether I had a disability or not, I was entitled to a place on that course.
"They were more than willing to help me fight my corner. I wanted to study there, and I was even more determined after I spoke to them.
"Back Up helped the university to understand the importance of inclusion and that I should have the same opportunities and experiences as anyone else on the course. After 18 long months of meetings and phone calls, we got the outcome we all wanted! They installed a lift and puts in ramps so I could go to university just like any other young person.
"Without the help of Back Up, I would have given up.
"I am now in the second year of my course and feeling positive about finishing my degree and my future career. I'm living with my fiancée, Shaun, and our two wonderful dogs, Larna and Lacey. Shaun and I plan to get married during 2020 and are already excitedly planning our big day."
By donating today, you can allow us to help every young person with a spinal cord injury to get the most out of life.


Contact
If you have any questions about donating, or other ways you can contribute to our Christmas appeal, please contact our Fundraising Manager, Janet, by email or call her on 020 8875 1805.