Youth Online Activities Day
Join us for a day of fun, online sessions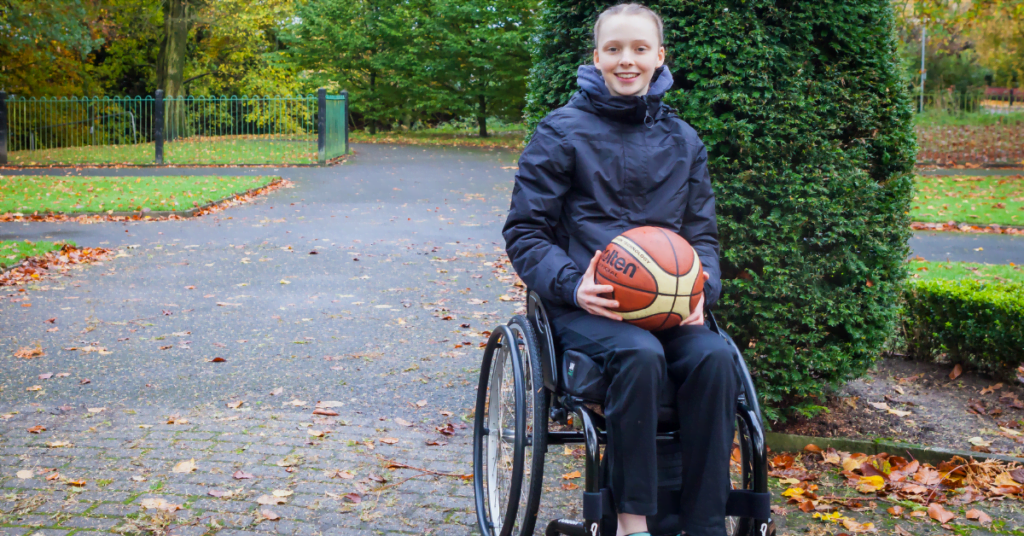 Lockdown has really limited our activities and chance to meet up with friends. You may be looking at other opportunities to do something fun and interesting outside of the virtual classroom. That's why we've created our first ever Youth Online Activities Day for children and young people with a spinal cord injury.
We have a range of interactive events on offer, from accessible exercise sessions to live interview about growing up with a spinal cord injury. There's something for all ages and interests, but let us know if there is something specific you'd like us to include.
Get active, hear from other young people with a spinal cord injury, discover cooking aids to help in the kitchen, or just come along to listen  – we hope you're keen to get involved!
Follow the links below the timetable to sign up for as many of the sessions you would like. Please also read our Zoom safeguarding appendix.
Session timetable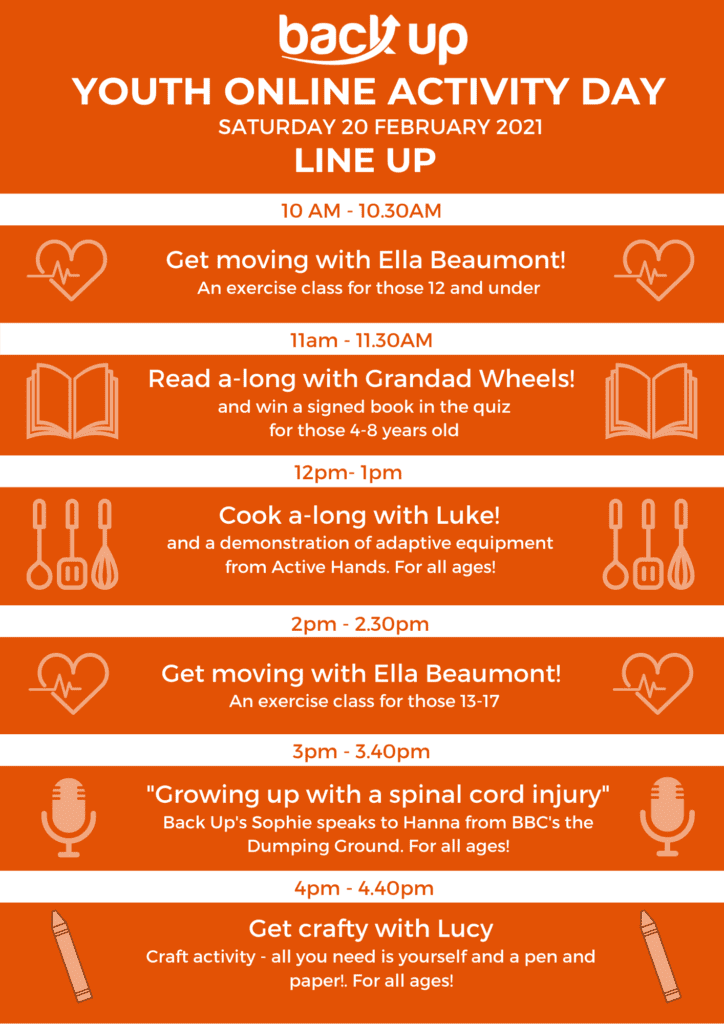 Zoom sign-up links
Fitness and fun session – 13 – 17 year olds
Growing up with a spinal cord injury live interview – all ages
Fitness and fun – 12 and under
Grandad Wheels book reading and quiz – 3 – 8 year olds
Cooking lunch with Luke – all ages, but under 12s will need adult supervision
Health and safety
Before undertaking any exercise session or following health videos, you should always consult with your GP:
• if you consider it necessary; or
• if you have any concerns with regards to your health conditions; or
• if you are not sure whether the exercises suggested in the video or instructed by the coach may be suitable for you.
Please note that:
• it is always you and your parent/guardian's responsibility to evaluate your own medical & physical condition and to independently determine whether to perform, use or adapt any of the information or content in the online sessions.
• any exercise program may result in injury.
• by voluntarily undertaking any activity/exercise displayed in this video or live instruction, you assume the risk of any resulting injury.
For taking part in the cooking workshop, it is important to follow the measures below to ensure optimum food hygiene and safety in preparation and cooking:
• Wash fruit under cold running water before using, to help remove dirt and germs
• Wash hands with soap – before and after handling food, after breaks, after the toilet etc
• Wear an apron when cooking
• Surfaces should be cleaned thoroughly before and after cooking
• Handle any sharp tools with care – ask parent for assistance if needed
• Do not sneeze or cough near food
• Tie back long hair
• Wear suitable, clean clothes (i.e. not long sleeves that may touch food)
• Ensure any cuts/sores are covered with a dressing – ideally with a bright colour so it can be seen if it comes off!
• Use oven gloves to take hot things out of the oven and to be aware of who else is around you when you are moving anything hot or sharp
Online safety for children
With the internet and online platforms being used more in the current situation with Covid-19, the need for online safety awareness has become much more important. It's really important to ensure that you understand how to manage risks online. See our online safety policy for children here.
Parents/guardians can find out more about Zoom on the NSPCC's Net-Aware website.
Online safety tips, advice and resources to help children and young people stay safe online can be found at the UK Safer Internet Centre (UKSIC). UKSIC have also recently worked with online safety and child protection organisations from around the world to inform the new International Telecommunication Union's (ITU) Child online protection guidelines for 2020 – read here for the guidelines aimed at children and young people.
If you are concerned about online abuse or the way someone has been communicating with you online, you can report it to one of CEOP's Child Protection Advisors.
Parents/guardians can also seek more advice and support about the digital world at Parent Info.