Back to school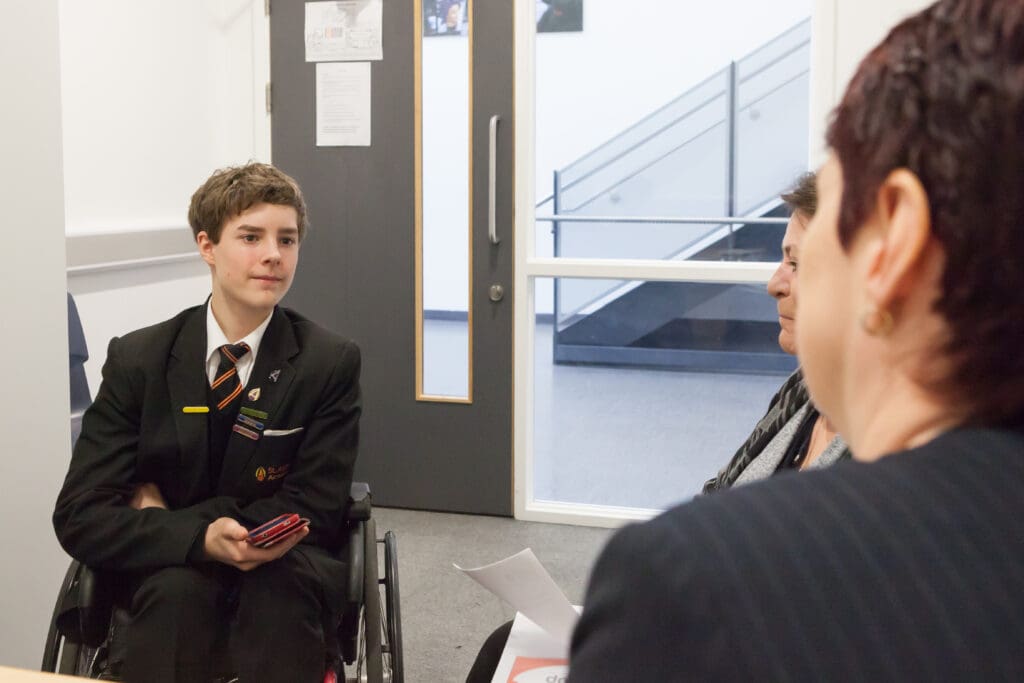 This article was published in August 2020 – the information may be out of date
All children have experienced huge change throughout these past few months. With their return to school imminent, they may have questions or concerns about what it will be like. Some children will be excited and others worried or nervous – for some it may be both. We have collated what we believe to be helpful advice to help children and young people with a spinal cord injury to navigate getting back to school.
Having a collaborative positive approach is really important – we advise that you work together with the school to focus on the main goal, to ensure safe measures are in place for your child to get the best outcomes.
If you need further support do not hesitate to contact the Education Inclusion service on 02088751805 or email Jo.
We hope that you find the advice below helpful.
Helping your child understand
The 'unknown' can cause anxiety for us all. Having a conversation with your child before school starts can help them process change and mentally prepare.
What are their worries? Returning to school can be very tiring and children and young people may experience additional fatigue because they are navigating a new way of being in school, for example getting used to one-way systems and socially distanced classrooms. Playtime might also look very different; they may have friends in other 'bubbles' and now cannot be in contact with them.
If you have not had guidance about changes, please contact your child's school. Some useful questions may be…
What entrance will my child need to use?
What classroom will they be in?
Is there an accessible toilet nearby?
What will they do at break/lunch?
What door will they leave school from?
Are there any changes to the staff supporting my child?
Ask for routes. Ask for timetables. Ask for a photo or a video of the new classroom layout, the playground, the route around school. It may be helpful to look into this with your child, let them explore and ask questions.
Risk Assessment and Return to School plans
A helpful starting point can be to ask the school if a risk assessment needs to be in place. Parents/carers and the child/young person should be consulted as part of the risk assessment. The key risk assessors should be local authorities and educational settings. Always work with the school to develop an individual risk assessment and have a copy for your records.
You know your child and what their needs are. During lockdown you will have learnt new things and know what helps them, what they dislike, what they enjoy, and what keeps them calm. Use your own resources and share knowledge of your child with the school.
Keeping wheelchairs, mobility aids and equipment clean
Wipe down and disinfect equipment before each use e.g. standing frames, joysticks and push rims. Do this regularly, upon entering school and as soon as you get home. Hand washing should take place more regularly throughout the day.
Some schools are using antimicrobial floor mats for pupils to wheel over to disinfect their wheels.
For powerchairs and additional battery powered/ electric mobility aids please consult user guides on how to clean these and be extremely careful with electric chairs and batteries/charger plugs.
When to use PPE
PPE should be worn by supervising staff if they cannot maintain a distance of two metres.
Think about when contact is close enough to require masks/gloves or full PPE. For example, getting in and out of standing frame, personal care, changing for PE, physio sessions.
Other questions you may want to ask your child's school are:
Will there be a safe place at school to store personal care equipment, aprons, gloves, masks, hand sanitiser, disinfectant spray, wipes etc?
Will the school provide PPE?
Let children handle a spare clean set of PPE so they know in advance what this might feel like and let them get used to the sensations if they require personal care.
Space & Environment
Here are some things to consider regarding the school's environment.
 Are there accessible handwashing facilities in place?
Government guidance states pupils should have access to handwashing facilities, if they don't this puts pupils at risk and disadvantage due to disability, as per the equality act.
Will the classroom be well ventilated?
As ventilation is important, will the school consider additional heating or allowing flexibility for coats etc for children who are unable to regulate their temperature?
Is the route around school accessible?
Will it take longer moving around the school? Will this impact energy levels, fatigue, pain? Do they need more support moving around the school because of this?
Will the route have high traffic and numbers of people?
Lunchtime/break routines –has thought been given to the zones in the playground so that the class are using a 'zone' that the child can access.
Is there an easily accessible place to wash hands when coming in and out of the building and before lunchtime?
Pick up and drop off places and route into school – does it take account of where to park to get the child safely in and out of transport?
 Are there any changes to the fire evacuation plan?
Equipment to consider
 Ensure your child has their own pencil case and stationery equipment that only they use.
 Use own water bottles, drinks flasks and lunchboxes and cutlery
 PPE – it may be useful for your child to carry their own supply of wipes, hand sanitiser, masks etc or have somewhere to store them safely
 Consider asking the school to install automatic hand sanitiser stations, these are available for under £20
 Consider automatic sensor bins for PPE, personal care items and infectious waste
 Masks – the government has issued new guidance on masks. If your child is medically exempt from using a mask Euan's Guide is offering free badges.
Have a change of masks, adhering to not touching outside of mask and handwashing after removing.
If necessary, consider a clear face shield on top of a mask to minimise risk of droplet transmission from others
· Antimicrobial mats, outside sinks at accessible height, perspex screens/ partitions
Proactive future planning
It is also worth noting that clinically extremely vulnerable individuals may be advised to resume shielding if their area goes into a local lockdown so it may be worth discussing this upfront and ask what the plan would be if a local lockdown were to happen.
How will learning continue for isolated children? How will teacher absence be covered?
What is the planned system for detecting Covid-19 cases in schools rapidly? How will parents be supported to get testing?
There may be increased absence and interruptions at school due to possible Covid-19 infections and teachers and students may need to take time off school and isolate. Plan and prepare your child for this in advance.
Government Guidance
Education and childcare guidance
Local lockdown school guidance
Face coverings in education
General face coverings guidance
Returning to school
Safe working and PPE in education settings
Welsh guidance on supporting children with SEND back to school
Scotland guidance
Further advice
Advice about covid-19 and children with SCI
Contact – Back to school advice – Key information, Getting to and from school, Preparing your child to return to school, EHCPS
Advice from Teaching unions
Young Minds – Supporting children returning to school after lockdown
Hand hygiene and resources
NSPCC – Returning to school after lockdown
How can I support my child right now