Accomable sponsor our travel e-newsletter
7th June 2017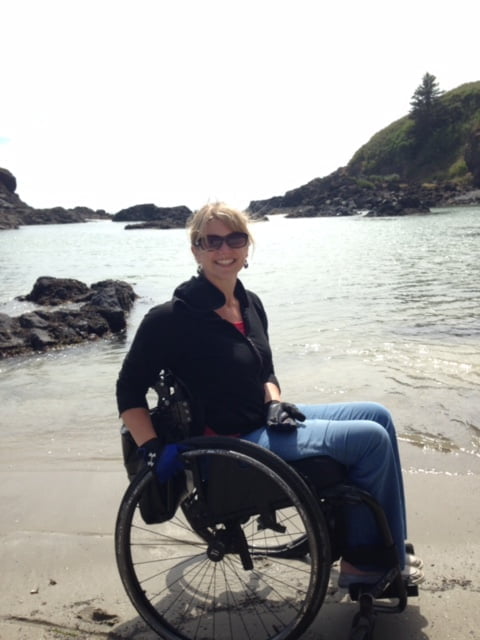 Regan Linton's story – Accomable has opened up a world of accessible stays for me!
I sustained a T-4 complete spinal cord injury in 2002 in a car accident, and now experience chest-down paralysis and use a manual wheelchair full time.
I travel quite a bit for my work as an actor and arts inclusion advocate – but also because I love travelling!
I found Accomable, the 'Airbnb for disabled people' through an article, and was thrilled to find more independent holiday homes rather than just hotels, which are often too expensive, less personable, and occasionally inaccessible.
Often when I travel, I find accommodation is inaccessible. Even "ADA Accessible" rooms at hotels have features that are difficult to navigate, because they are designed according to codes and often miss the nuances of wheelchair living.
Challenges I've encountered are showers without handheld faucets, beds that are too high, thick carpet, lack of space for manoeuvering, to name a few. This inaccessibility is often even worse with independently-operated accommodations, where people indicate "wheelchair accessible" – even when there are steps up to the front door!
I decided to use Accomable to surprise my partner with a trip to Portland in Oregon to see a brilliant violinist, Itzhak Perlman. Through Accomable, I found "Granny's Garden Cottage", a delightful little house in a quaint neighborhood in Portland that had been renovated specifically with access in mind.
I like the way Accomable shows details which make it clear that the owners know what they're talking about! Granny's Garden Cottage had great pictures which allowed me to see all the accessible features, including pathways, entryways, a roll-in shower, maneuvering space, and more.
The owners were very conscientious of wheelchair users, and even asked me about whether I wanted rugs to be removed and the bed height to be adjusted. The Cottage included unique features like a height-adjustable kitchen sink. In addition to access, the cottage had a focus on sustainable living. It was incredibly cosy and calm.
Overall, it was one of the nicest and most accessible and comfortable places I've ever stayed, especially for the price! I felt like the owners had considered every detail of access, and they were available to help us with anything we needed. I didn't feel like I was paying extra for access. This made our stay in Portland most enjoyable!
We were able to take Uber and Lyft cars to local attractions, and even spent an afternoon rolling through the local neighborhood streets. We ate great food and listened to beautiful music, and my partner even got a tattoo!
It feels like Accomable provides the opportunity to connect with people who are "in the know" all over the world, like a global access-minded community. It helped make our trip a huge success!
Regan Linton booked her stay at Granny's Garden Cottage in Portland, USA at Accomable.
Accomable is a pioneering hotel and holiday home booking site for disabled people, which offers more than 1,000 accessible properties in over 60 countries worldwide.