Back Up's Wheelchair Challenge
Registration: Option 1: £50 registration fee, This will include wheelchair hire from a registered wheelchair hire company and will come with instructions about how to unpack and use the chair as well as a fundraising pack.
Option 2: No registration fee and you set your own target. This will include a fundraising pack, however you will need to source your own wheelchair.
Sponsorship Target: Option 1: £100 minimum fundraising. Option 2: You set your own target!
Duration: 1 March 2018 - 28 February 2019

This year, we're asking people across the country to spend the day using a wheelchair to raise awareness and funds for Back Up. The challenge will kick off on International Wheelchair Day, 1 March 2018, and run throughout the year.
By taking part in this challenge for Back Up, you could contribute to our wheelchair skills sessions and others services that make an enormous difference to the lives of many people affected by spinal cord injury.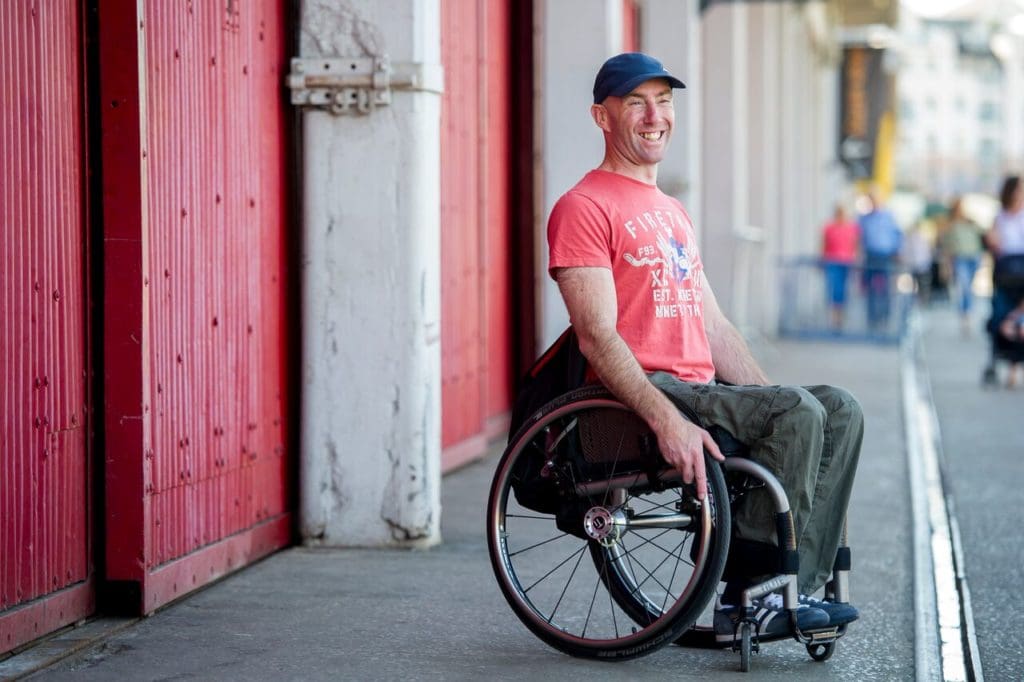 How does it work?
Firstly, you'll need to complete a registration form and pay the appropriate fee:
Option 1: £50 registration fee, £100 minimum fundraising. This will include wheelchair hire (from a registered wheelchair hire supplier and will come with instructions about how to unpack and and use the wheelchair) delivery and pick up and a fundraising pack.
Option 2: No registration fee and you set your own target! This will include a fundraising pack, however you will need to source your own wheelchair.
Where and when?
The Back Up Wheelchair Challenge will be taking place from 1 March 2018 to 28 February 2019 to celebrate International Wheelchair Day and raise funds for Back Up. The beauty of the challenge is that you can do it anywhere you like – at your office, school, at home – to make it fit in with your lifestyle.
Interested?
If you'd like to find out more or to register for the challenge, please get in touch with a member of the fundraising team using the details below. We will support you throughout the challenge with tips, advice and fundraising materials to help you reach your sponsorship target.
Contact
For individuals, community groups and schools, please get in touch with our Community Fundraising Manager, Janet, at janet@backuptrust.org.uk or call her on 020 8875 6749.
For corporate teams, please get in touch with our corporate fundraiser, Tim, at tim@backuptrust.org.uk or call him on 020 8875 6772.