Christmas Appeal – Emerson's story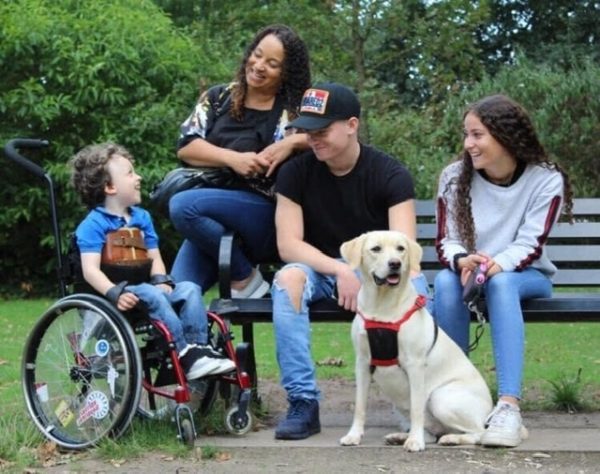 Donate now and read Emerson's story below.
Life changed dramatically for Emerson's family on August 15 2016. Aged just 19 months old, he was an extremely energetic toddler who loved nothing more than being active and kicking a ball around.
Suddenly unable to bear his own weight, he was diagnosed with an incomplete spinal cord injury. A cyst compressing on his spinal nerve left him paralysed from the chest down at level C6/C7 – T1. His parents, Anna-Marina and Lee felt emotionally overwhelmed learning that their energetic son would be unable to walk or use his bladder and bowels independently.
"We had to dig deep to fully understand and accept our many mixed feelings; denial, worry, distress, anger, uncertainty, fear, ignorance, fault, and great sadness." -Anna-Marina, Emerson's mum.
They first met Back Up at Stoke Mandeville when Emerson attended our Wacky Wednesday session. At Back Up, we know that people affected by spinal cord injury are best placed to identify what they need and to support others in a similar situation. For Emerson's parents, the Back Up community is like an extension of their family – people who understand what they go through daily.
"We wouldn't be where we are or have the strength we have if it wasn't for Back Up."
Last year, Emerson received support from Back Up who worked closely with the family and his nursery to put together an education healthcare plan.
 "Back Up were amazing. They came to Emerson's school and taught the children about spinal cord injury and what it means for Emerson and how they can support him and other children in the future."
The whole family were able to attend Back Up's Under 13s multi-activity course together. The course encourages children and young people like Emerson to push their on what they can achieve to help increase their own confidence, independence and show other young people, and their families what is possible after spinal cord injury.
Before the course, Emerson was nervous and wasn't sure if he could keep up with everyone and make friends. Interacting with children his own age and with similar circumstances helped Emerson's confidence soar. During the week, he tried horse riding, canoeing and rock climbing – growing in courage. He improved his spatial awareness and learned to balance on his back wheels – lifelong skills which will enable him to negotiate obstacles independently.
Emerson received support from Back Up's Education Inclusion Service who worked closely with the family and his school to put together an Education, Health and Care plan. Having started to adjust well to a new life thus far, the Covid-19 pandemic suddenly forced the family into self-isolation, worried about the medical complications of a disease that affects the respiratory and immune systems.
It was a tough, heart breaking time that meant normal co-parenting access for Emerson and his dad would now be through a closed window or via FaceTime, missing his warmth and hugs. Despite their diligence, Emerson contracted Covid-19 and spent five worrying days in hospital.
Thankfully Emerson made a full recovery and, thanks to support from Back Up, he is now back at school with his playmates. Back Up have seen a huge increase in demand for outreach services this year as families like Emerson's struggle with additional challenges and anxieties. We have responded quickly, adapting how we deliver our services, launching the Back Up Lounge, developing wheelchair skills videos and delivering patient education sessions remotely into spinal centres. We remain committed to being there for everyone  affected by spinal cord injury, which is why we are thinking differently and evolving. We've been listening to what people need and responding accordingly during these uncertain times.
Please give generously and stay safe this Christmas.
Thank you and Merry Christmas from Back Up.
Click here to donate