Our guiding principles
We have identified four principles that underpin Back Up's services. They ensure that all our services have the greatest impact on the lives of the people we support.
Peer support
Peer support involves people drawing on their first-hand experiences to share knowledge, socialise, and provide emotional assistance or practical help to each other – often in a way that is mutually beneficial (Nesta / National Voices, 2015). NHS England's Five Year Forward View (2014) even referred to peer support as one of the 'slow burn, high impact' interventions that should be seen as 'essential' to the future of the NHS.
At Back Up, peer support has always been a central part of our work. Many of our staff and volunteers are affected by spinal cord injury, and they regularly draw on their experiences in the delivery of their jobs. Indeed, we have many staff and volunteer opportunities that are only open to people with lived experience of spinal cord injury because of the specific skillset they require.
Peer support has been shown to have the potential to improve the experience, psycho-social outcomes, behaviour and health outcomes amongst people with long-term physical and mental health conditions. It has also been found to be most effective for improving health outcomes when facilitated by trained peers, like our volunteer mentors who are all trained by clinical psychologists. Peer support works well when delivered face-to-face, by telephone or online (Nesta / National Voices, 2015).
Regarding spinal cord injury specifically, it has been shown that people who have been mentored by their peers are more likely to be in work and more positive about life in the long term (Sherman, DeVinney & Sperling 2004).
Many of the people we support remark that having the chance to speak to others in a similar situation makes a huge difference to their emotional and physical wellbeing. For some, Back Up's services offer the first chance to speak to someone else who understands life with a spinal cord injury. This supportive network can play a vital role in getting back up to living life to the full.
Model of adjustment
There is a significant body of research into how people cope and adapt to situations and, specifically, to spinal cord injury. Research by Duff and Kennedy (2009) tells us that how a person perceives their situation, and their ability to cope with the situation, is key.  There are all sorts of factors which will influence how someone initially perceives their situation when they or a loved one sustain a spinal cord injury. These factors include their beliefs about disability; their beliefs about themselves and the world; their usual coping styles and strategies; the social support they have and potentially how they got injured. They will all play a role in how well people adjust.
Someone who sees their situation as entirely out of their control, as unmanageable, will naturally use coping strategies that help them to avoid the situation. They can withdraw emotionally; disengage from rehabilitation; focus on the hope for a cure rather getting on with life now; not be able to accept the reality of the situation; vent anger or use drugs or alcohol to escape.  Of course, many people will feel like their situation is unmanageable from time to time. However, if someone feels like this all the time and only copes in these ways, this is likely to have a significant emotional impact on them and may lead to very significant mental and physical health issues.
Conversely, if someone sees their situation as a challenge which is manageable, they will naturally tend to use positive coping strategies aimed at managing it.  These coping strategies include being active (doing things which are meaningful to you); accepting the reality of the situation; believing something good can come from the situation; using the support of people around you; talking about the situation; taking on small goals and gradually building up confidence – all of which are linked to better long-term outcomes in life.
At Back Up, this model really resonates with our experience and the work we do. It helps us demonstrate that if we can help to change someone's perception of their situation and empower them to use more positive coping strategies, then we know this is linked to a better long-term outcome in their life.
The changes Back Up aims to make
Long-term change is complex and influenced by many factors.  A theory of change is an ongoing collaborative process of reflection to help us to understand, communicate and evidence the changes we want to make at Back Up.
You start by identifying the long-term goals and then you work backwards to find out the conditions that need to be in place for those goals to be achieved. This makes it easier to plan your activities because you gain a better understanding of how change occurs.
At Back Up, a wide range of people helped to develop our theory of change and the key themes are: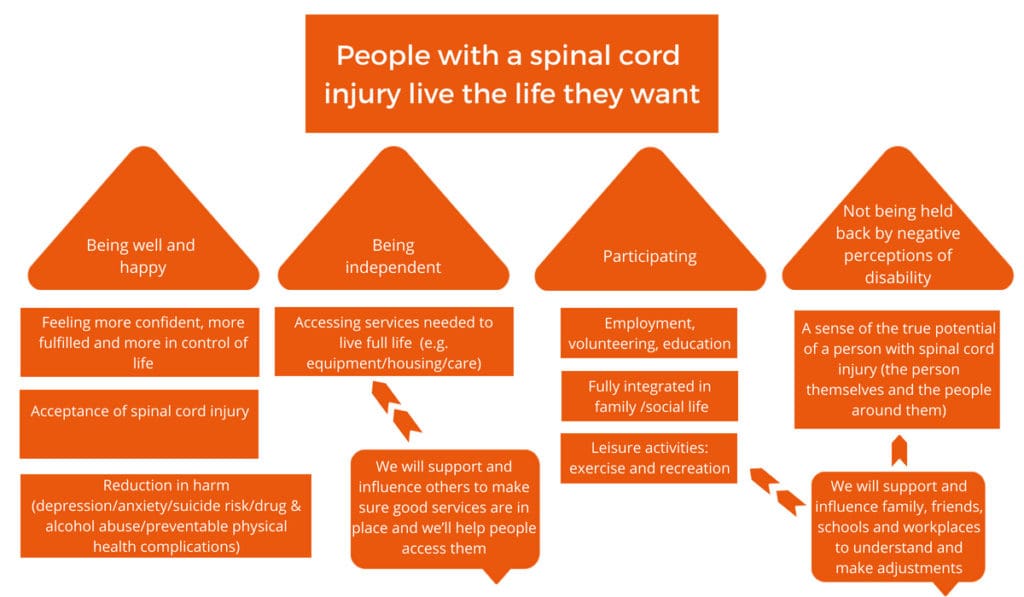 Grounded in research, led by need
Everything we do is driven by the needs of people affected by spinal cord injury. We work in a variety of ways to understand those changing needs to ensure our services remain relevant and have the greatest impact on the people we support.
People affected by spinal cord injury are involved throughout Back Up, delivering our services and forming a significant proportion of our staff, volunteers and board of trustees (we always aim for at least 50% of board members with a spinal cord injury).
We pride ourselves on being innovative and creative to ensure people affected by spinal cord injury drive our strategy and services. Consultation happens at every stage of decision-making, from establishing need, to designing and developing the services, to delivery and then review and recommendations.  We use focus groups, interviews, surveys and social media amongst other methods to carry out our own in-depth qualitative research.  In this way we reach many people who may not normally share their views without being asked, and we can target specific groups of people to ensure the widest possible range of input.
Back Up is the only charity in the UK that provides dedicated services for children and young people with a spinal cord injury.  Young people with a spinal cord injury are involved with the delivery and development of our services and our decision-making.
As well as carrying out our own research, we also look at existing research in the field and commission new studies to better understand the needs of the people we support. Duff and Kennedy's model of adjustment is a key theory that underpins all our services, while the Institute of Education's findings on the experiences of children and young people with a spinal cord injury in education informed the development of our school inclusion service. Extensive research underpins everything we do, giving us new insights and methodologies that support our work.
Contact
To learn more about our guiding principles, please contact our Head of Services, Andy by email or call them on 020 8875 1805.